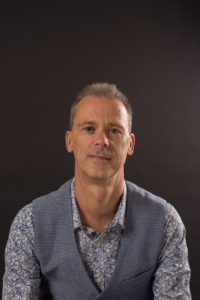 Benny Lindelauf was born on the 15th December 1964. That night was so bitterly cold that he was wrapped in rompers made of cotton wool. Not that it helped much: from that day onwards he always felt thoroughly chilly.
Benny grew up in Sittard, a middle child caught between his sister, older by three years, and his brother, younger by three years. Everybody used to think he was a girl, something he would one day happily acquiesce to, only to become really furious about the next. He liked climbing trees and building huts, but at the same time he loved reading. He read the small local convent library completely to shreds.
At that time there were books for boys and books for girls and the nuns kept a sharp eye on what everybody read. They tried to get Benny to read only boys' books, a task to which he obediently complied. Actually he hoped that this way he'd be allowed to read girls' books. Pitty, De Olijke Tweeling, Belinda. He read them all. The nuns just couldn't fight such a reading frenzy, so in the end they resigned themselves to it.
Actually those books weren't his only means of finding stories. Benny's grandma and her sisters were great storytellers. When they spoke you could hear a pin drop. Some of their stories they told hundreds of times. Now he's forgotten most of them, but he can still clearly remember the way those stories hung in the room and the to-ing and fro-ing of who knew what and who was telling the truth while the air turned blue with smoke. You can find the resonance of those stories in the books "Negen Open Armen" and "De Hemel van Heivisj".
Secondary school was a disaster. It was only at the Mikojelacademie (S.P.H) that he found his direction. The school for social workers was a sort of experiment. The students had four years of classes in all kinds of creative subjects. Benny was supposed to become a social worker after that, but he'd developed such a taste for all that artistic expression that he subsequently went to the Theaterschool inAmsterdam. There he trained to become a teacher of creative dance. When he was finished with the course he once again didn't do what he was trained for. Instead he played and danced in several (youth) theatre productions. Meanwhile he kept writing. Everywhere and all the time. Sometimes he wrote during a performance whilst waiting behind the set to make his entrance. He went to Scriptplus in Amsterdam, where they gave writing courses. He followed lessons given by Beatrijs Nolet,Claire Hülsenbeck and Joke Linders. It was one big party! In 1998 his first book came out : "Omhoogvaldag".
A long time has since passed. Benny is still writing. Of all the things he has done and tried, he seems to be the best at this. Benny lives inRotterdamwith his husband Guido. They have such a small house that when they receive a present they have to give something away. Luckily they have a terraced roof. Benny's husband once built a shed there to write in, but that blew away. In 2005 they bought a really old barn inCatalonia, in the middle of nature on5 hectares of land. That has become a house where he can often be found. The house is made of thick stones piled on top of each other, so it's not likely to blow away so quickly…