♦

12/11/2022 · 12:35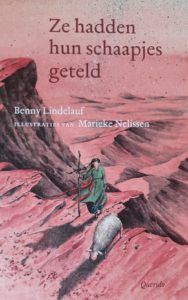 Yes, here it is. The newest baby. An adaptation of the Christmas story.
As a child in winter I sang 'the shepherds lay at night' in church. And I often wondered why the shepherds in the middle of the night did follow the light of some faraway star. I couldn't believe that a shepherd lying cozy by his fire, probably dead tired would see the star and think: Hey, let's see where that light will take me!
The question came to my mind again when theatregroup Het Laagland asked me to write a play especially for Christmas. Accompanied by the thirty-person orchestra of the South Netherlands Philharmonic, I told the story. A fantastic experience.
And now there is the book, an adaptation of that text. With beautiful illustrations by Marieke Nelissen.
Happy Holidays!